Receiving a Use and Occupancy Letter is typically the last step in the building permitting process and allows you to use your newly constructed or renovated home or business. Metro Codes wants to help you receive your letter as quickly as possible once eligible. Whether you applied for your permit online or in person, all of the information about your permit and the various inspections and child (related) permits are available on the ePermits.Nashville.gov website. This is where you can check and see that all of your required inspections have been completed and permits received before seeking your Use and Occupancy letter.
In order to streamline and expedite the process for requesting a letter, we ask that you print and bring your Use and Occupancy permit status report with you to the Metro Codes office when seeking your letter. Below are the steps you will need to follow to obtain this permit report.
First, visit the ePermits website and enter your ten digit building permit number in the search bar (or you can search by address, owner, or contractor if you don't have your number). We recommend that you use Microsoft Edge for this process.

If the permit is found, open the permit by clicking on the permit number.

Once your permit is open, in the top right hand corner there is a button for "Available Reports." Click on that button to take you to your report options.

Click "print" next to the "CA Permit Status U&O REPORT"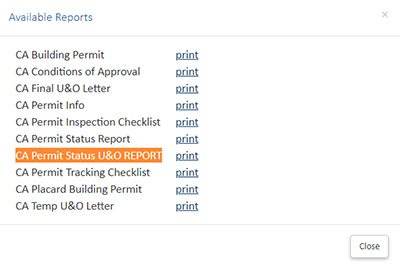 Next, in the left-hand corner of your screen, you have the option to either print the report or export it to a PDF document and print it that way.

Check and see that all of the necessary permits and inspections are completed. If they are not, please schedule your inspections or building division if you have any questions prior to seeking your Use and Occupancy Letter.
You can find the contact information by printing the Permit Tracking Checklist report.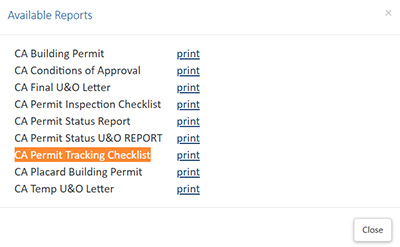 This will show all of the required inspections and contact information for the individuals assigned to this process. Please note that there may be more inspections on this list than necessary. If, for example, an inspector has completed the Building Final inspection, then inspections such as "Building Framing – Wall" will not be necessary. It will be up to the inspector, working with the contractor, to determine which inspections are required for the specific project. Additionally, a Building Final inspection should not be performed until all trade permits (gas/mechanical, plumbing, electrical) have been completed.

Once you have completed all of the necessary inspections and received the required approvals for your project, you can apply to receive a final Use and Occupancy letter via email for Residential Use and Occupancy or Commercial Use and Occupancy, by calling 615-862-6550, or visiting the Building Inspection Division on the third floor of the Metro Office Building. Please bring a copy of the Permit Status Use and Occupancy report with you to apply for your letter.
Contact
Codes and Building Safety
Metro Office Building
800 2nd Ave S
1st Floor, Codes Department
Nashville, TN 37210
Monday - Friday
7:30 a.m.-4:00 p.m.