Surplus Property Distribution is Metro's central point and authority for the management of surplus, seized, confiscated, abandoned, and unclaimed personal and real property deemed excess by the Metropolitan Government of Nashville and Davidson County. The unit manages processes both for submitting excess property items for disposition and for redistributing excess property to Metro agencies having a need. The operation includes maintaining Metro's surplus inventory warehouse and making pick-ups and deliveries associated with the collection and redistribution of surplus property.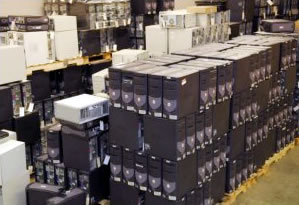 The redistribution, sale, or other disposition of excess property may include, at any particular time, cars, trucks, heavy equipment, jewelry, furniture, computers, electronics, and real estate as well as other items. Surplus Property Distribution emphasizes the re-use of property within Metro government, however it also administers the on-going sale of property for which there is no readily apparent need within Metro or seized, confiscated, forfeited, abandoned, or court ordered sale items (which may not be transferred to a Metro agency).
eBid Nashville
Surplus property is sold through eBid Nashville, Metro's secure, online auction Internet site. Surplus Property Distribution staff manage the web site and auction so that the function is totally self-supporting. In fact eBid Nashville garners fairly significant annual revenue benefiting Metro government and taxpayers.
Metro has received national acclaim for its innovative use of the Internet. Please visit Metro's online surplus property auction web site and bid on surplus, seized, confiscated, abandoned, unclaimed property (including real estate). eBid Nashville is easy to use and highly secure.
Notice: Metro employees are welcome to register and participate in eBid Nashville online auctions, Provided that…
"Metro employees with first-hand information about auction items may not bid on such items.
Additionally, to avoid any conflict of interest (or the appearance of such), Department of General Services employees are considered to have first-hand information about and may not bid on any General Services surplused items (including, but not limited to, OFM and BOSS tools and equipment).
Finally, General Services employees may not bid on cars or trucks, and these vehicles may not be titled to General Services employees.";
(General Services Administrative Procedure 04-001)