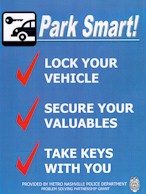 The Auto Theft Unit is a part of the Criminal Investigation Division.
If you have any question about auto theft prevention, the status of a stolen vehicle, or any other matters relating to auto theft in Davidson County, you may call the Metropolitan Police Department's Auto Theft Unit at 615-862-7612.
If the matter is urgent and requires immediate assistance, dial 615-862-8600.
Ways to Prevent Auto Theft
If You Are The Victim of an Auto Theft, Don't Panic
Promptly report the theft to the police and your insurance company or agent. Please provide as much of the following information as you can:
Vehicle year, make, and model
VIN (Vehicle Identification Number)
Color(s) of vehicle
License plate number
insurance company and policy number
Related Links