Korean Veterans Memorial Bridge Lighting Policy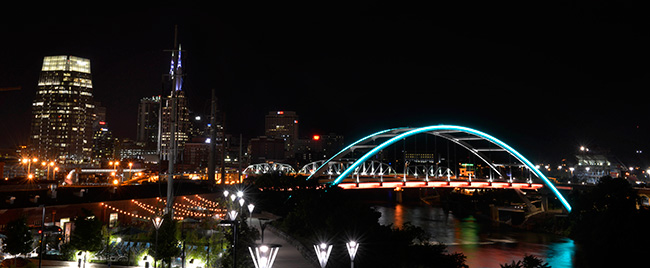 Lighting of the Korean Veterans Memorial Bridge in various colors or lighting sequences promotes Metro Government, its civic institutions, state and federal holidays, national nonprofit organizations with a local presence, and other public events of broad community significance. Lighting requests from groups or individuals requesting to recognize a specific cause or to commemorate or enhance a specific event with broad community interest may be considered on a limited basis. Specifically excluded would be lighting to celebrate birthdays, personal anniversaries, or events that are primarily private in nature.
All requests must be made by a Davidson County resident and at least 5 business days in advance of the requested date. Due to the large number of requests received, only one day to recognize an organization or event will be granted. Metro reserves the right to cancel or reschedule a previously approved request if there is a sudden/urgent that would override the original request.
City, state and federal holidays and recognitions of special significance (including city-sponsored and/or public events or occasions deemed appropriate), may be commemorated with special light sequences. Several examples of holidays and events the bridge will be lit on are listed below.
New Year's Eve
Martin Luther King Day
President's Day
Saint Patrick's Day
Cinco De Mayo
Memorial Day
July 4th
End of Korean War
Labor Day
Columbus Day
Halloween
Veteran's Day
Thanksgiving
Hanukkah
Christmas
Kwanzaa