The Official Seal of the Metropolitan Government of Nashville and Davidson County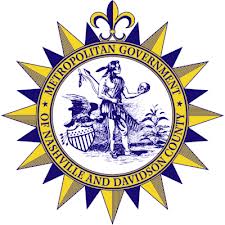 History and Meaning of the Official Seal
Herbert F. Thomson of Cullom and Ghertner, David Baker of Illustration Design Group, and Harold West, Art Director of Doyne Advertising Agency, were hired to design a seal for the newly created metropolitan city government. The blue and gold seal combined elements of the old City of Nashville seal and new elements symbolizing the consolidation of the Metro Government.
The fleur-de-lis at the top is the stylized treatment of the Iris.
The compass points signify the unlimited horizons of the opportunities ahead for the people of Metropolitan Government of Nashville and Davidson County.
The history and meaning of the old Nashville City emblem of the Native American Indian holding the skull is not known. In 1949 Mayor Thomas L. Cummings made an effort to find the significance and the origins of these symbols. These were the results of Mayor Cummings' search:
The Native American Indian was identified as the famous Cherokee leader Chief Oconostota, Great Warrior of Chota.
Chief Oconostota holds a skull and implements of war that he and General James Robertson buried between them in a ceremony of peace.
Tobacco symbolizes a gift from Native American Indians and the source of wealth and cultivation of our land.
The eagle is the only bird that neither flees nor fights a storm but flies above it. The eagle above a United States' government shield represents superiority, judgment and strength in the face of danger.
The official seal of the Metropolitan Government of Nashville and the Davidson County was passed on April 2, 1963 by the Metropolitan Council in Resolution 63-1 as the first resolution adopted by the first Metropolitan Council.
Sources:
From the "File Cabinet 1963 of the Friends of the Metro Archives of Nashville and Davidson County"
"Significance of Metro Emblem Remains Mystery" Banner 12 July 1979: Print
Kriste Goad. "New Metro image bring push for updated seal, end of mystery." Banner 24 January 1994: Print
The Flag of Metropolitan Government of Nashville and Davidson County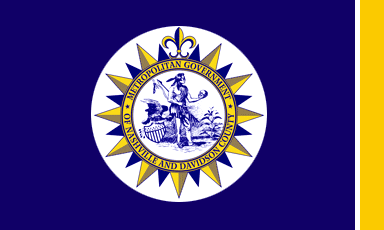 City of Nashville Flag (prior to 1963)