We are always looking for capable, dedicated Davidson County residents who want to serve as Poll Officials on Election Days. Read below for highlights of the position and apply today.
Requirements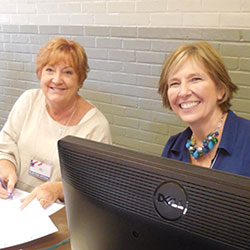 You must be a registered Davidson County voter.
You must complete mandatory online training.
On Election Day, you must be willing to work 6 a.m. to 7:30 p.m., or until the last voter has voted and all precinct work is completed.
You must provide your own transportation to your assigned work location.
Government Employees Eligible to Work
All Metro employees (unless working directly under the supervision of an elected official who is on the ballot)
State of Tennessee employees
Federal employees – check with your HR department to ensure eligibility
Pay
$30 per mandatory online training class completed
$150 per Election Day worked
Questions
Call Election Staffing & Training Department at 615-862-4372 OR
Email

[email protected]
Contact
Davidson County Elections Administration
Metro Southeast Facility
1417 Murfreesboro Pk
Davidson County Election Commission
Nashville, TN 37217
P.O. Box 650
Nashville, TN 37202
Monday - Friday
8:00 a.m.-4:30 p.m.