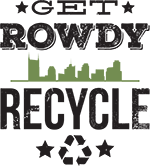 Not everything can be recycled. Check out our Waste Wizard and Recycle Right guidelines below for what you can and cannot recycle. Still have questions? Join one of our free webinars on how to Recycle Right.
Nashville Waste Wizard
Use our Waste Wizard to look up what you can and cannot recycle in Nashville. Curbside recycling customer? View your collection schedule and sign up for recycling day reminders.
Recycle Right
How to Recycle
Place only the following items in the recycling container.
Items must be clean, empty, and dry.
Place items loose in the container, Not in a plastic bag.
Plastic caps should be left on or thrown away. Do Not place loose caps in the recycling container.
Cardboard should be flattened.
At recycling drop-off sites, items must be separated into appropriately labeled containers.
What Can Be Recycled
Paper and Cartons

Paper
Newspaper
Magazines
Mail
Food and beverage cartons
Cardboard

Corrugated cardboard
Toilet paper and paper towel rolls
Cereal boxes
Tissue boxes
Food and Drink Cans

Plastic Bottles, Jars, and Jugs

Beverage bottles
Kitchen, laundry, and bath bottles and jugs
Milk and juice jugs
Plastic food jars
Glass Bottles and Jars (Recycling Drop-Off Sites Only)
No glass in curbside recycling carts.

Leave these out to Recycle Right!
No food or liquid. Empty and rinse all containers.
No glass in curbside bins. Recycling drop-off site only.
Do Not bag recyclables. Place items loose in bin.
No plastic bags, plastic wrap, or bubble wrap.
No plastic of any kind that is not a bottle, jar, or jug. No takeout containers, Styrofoam, plastic cups or tubs, etc.
No hoses, wires, chains, or electronics.
No yard waste.
No clothing or linens.
OOPS Tags
We are inspecting recycling carts and placing OOPS tags on carts found with items that cannot be recycled. We will not empty a recycling cart that has an OOPS tag on it.
What To Do If You Get an OOPS Tag
Check your OOPS tag for information on what items cannot be recycled.
Remove all items that cannot be recycled, even if they were not noted on your OOPS tag.
Removal of Recycling Carts
Recycling carts will be removed if:
Items that cannot be recycled are found in your cart two months in a row or on and off over several months.
Any recycling cart is being used for trash.
Items that cannot be recycled are still found in your cart after reporting the items were removed.
Curbside Collection Information
If you live in Nashville's Urban Services District and receive trash collection from Metro in the brown rolling carts, your household is eligible to participate in the curbside recycling program. Eligible households are allowed up to 3 recycling carts at no cost.
If you live in the General Services District or a multi-family complex throughout Davidson County, contact your private hauler for information on recycling. All private haulers are required to offer a recycling option for their trash customers. Metro does not supply curbside recycling carts to buildings that use dumpsters for trash collection service.
Collection Guidelines
Eligible households are allowed up to 3 recycling carts at no cost.
Recycling is collected once a month.
On your collection day, place your cart on the curb or alley by 7 a.m. with the arrow on the lid pointing toward the street or alley. Your recycling will be collected between the hours of 7 a.m. and 5 p.m.
Items that are placed outside the recycle cart will not be picked up.
Do not place the cart within 3 feet of any stationary object such as a car, mailbox, utility pole, recycling cart, etc.
If recycling pick-up is delayed due to inclement weather, your recycling will be picked-up the following Saturday.
Holiday Collection
Recycling is not collected on holidays. If your recycling collection day falls on a holiday, all collection days after the holiday in that week will be delayed by one day. For example, if the holiday is on a Monday, collection for Monday customers will be on Tuesday, Tuesday customers on Wednesday, Wednesday customers on Thursday, etc.
Helpful Recycling Links
Request a New Curbside Cart Sticker

Residential curbside customers can request a 5" x 15" decal for their Metro-issued green curbside recycling carts with the current recycling guidelines. The most recent sticker is from June 2020. If you have a previous sticker, please request a new one here or check out the new recycling guidelines on this web page for updated information on our recycling guidelines. Decals are for use on Metro curbside recycling carts only and will only be issued to customers with curbside recycling service from Metro.
Request a new recycling cart sticker.
Other Recycling Options
Some materials not accepted curbside or at recycling drop-off sites can still be recycled:
Get Rowdy Recycle News
Facebook Page
Join our Get Rowdy! Recycle Right Nashville Facebook group. This group is a place for Metro Nashville and Davidson County residents to
ask questions about what you can and cannot recycle in Nashville
discuss issues surrounding recycling in Nashville and beyond
get answers about Metro Nashville's recycling program from the people that manage Metro Nashville's recycling program
E-Newsletter
Sign up for the Get Rowdy Recycle newsletter. This quarterly newsletter includes tips for how to Recycle Right, news about recycling collection and drop-off sites, and resources to learn more about the state of recycling.
Printable Materials and Signage
Posters