Services We Provide
Metro Nashville Network (MNN) provides video for local Comcast Channel 3 and AT&T U-verse Channel 99 and airs 24 hours each day, 7 days each week. MNN staff provide recordings of live meetings, Public Service Announcements, and recorded Metro meetings and events.
Metro Nashville Network programs that are airing on Comcast Cable and AT&T U-verse can be viewed as a live stream on Metro Nashville Network Streaming from any internet accessible device.
Meetings and special events recorded by MNN staff are posted to the Metro Government YouTube Channel within 1 business day of the event taping.
Services provided include:
Videotaping Metro government meetings and events (request event coverage)
Tape delayed broadcasts of government meetings and events
Live Broadcasts of government meetings and events
Management of the Metro Government YouTube Channel
Public Service Announcements
Special Video Projects for Metro Departments and Agencies
DVD & Tape Dubs of Metro Nashville Network programming per Public Information Request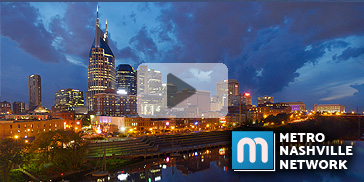 Metro Nashville Network Video Stream
Tune in now and watch live Council Meetings, Events, Public Service Announcements and much more provided by Metro Nashville Network.
Contact us at 615-862-5046 or [email protected]