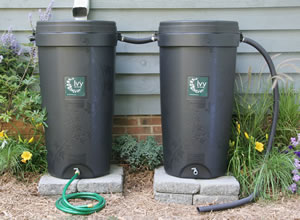 There are many local options to purchase rain barrels, including garden centers and hardware stores.
Here are a few tips to keep in mind when shopping for, or building, a rainbarrel:
Prevent mosquitoes – Your rain barrel should have a screen completely covering the hole on top where water enters from the down spout.
Provide overflow drainage – Your rain barrel should have an overflow hole near the top, with a connecting hose, to allow excess water to drain out and runoff away from the house.
Use Water Wisely
How to Use Water Wisely in the Garden
Thanks to the Cumberland River Nashville has an abundant supply of water. But it's important that we all use water wisely, especially on our lawns and gardens and other times when we don't really need to use drinking water to get the job done. Fixing leaky faucets, catching rinse water in a bowl to water outdoor plants, and even catching rain water in a bucket to use when you scrub the patio are smart yet simple ideas that we call can use to save water and save money.
Why is a rain barrel good for your plants?
Rain is naturally soft water and devoid of minerals, chlorine, fluoride, and other chemicals. For this reason, Plants respond very well to rainwater.
How much water can you collect?
For every inch of rainfall that falls on a 1,000 sq. ft. roof, you can expect to collect approximately 600 gallons of rain water.
What is a Rain Barrel?
To the average homeowner, a rain barrel is merely a simple and inexpensive way to catch and store rainwater as it flows from a building's roof into the gutters and downspouts. This stored water then becomes a great alternative to tap/city water and can be used during periods of dry or drought to water gardens, trees, and other plants. This is free water, and obviously the homeowner saves money.
Why is a rain barrel good for the Environment?
Rain Barrels save energy
Rain Barrels help maintain streams
Rain Barrels are good for the environment
Rain Barrels reduce tap water usage saving you money
Make your own rain barrel
How to Make Your Own Rain Barrel. A simple and inexpensive way to catch and store rainwater that can later be used to water your lawns and gardens during dry periods.
Installation
Position the rain barrel (with blocks under it) adjacent to a downspout and remove enough of the downspout (with a hacksaw) so that there is ample room to attach a 45 degree elbow still allowing the rain barrel to easily fit underneath with approximately 2" of clearance.
Your rain barrel must be secured on a raised, level surface (like concrete blocks). A full 55 gallon rain barrel weighs over 400 Ibs. and tipping is a risk if it is unsecured or on uneven ground.
Divert your overflow to a safe discharge location away from your homes foundation.
The barrel must have a lid and a fine mesh screen covering any openings to prevent mosquitoes and debris from getting inside.
Do not use moss control or other chemicals on your roof that are not garden safe.
NEVER use water from the rain barrel for drinking, cooking or other potable uses.
Maintenance
Periodically brush the screen to prevent accumulation of debris.
Winterizing
Discontinue use of your rain barrel before the first frost.
Empty the rain barrel completely.
Clean the rain barrel with mild dishwashing liquid.
Store the rain barrel upside down to prevent water from collecting in it.