The Property Standards Division is responsible for the enforcement of the property Standards Code (Title 16.24), portions of the Building Code (Title 16) and portions of the Zoning Code (Title 17).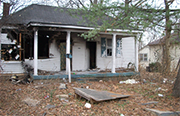 The Property Standards Division is responsible for inspections related to violations that impact the health, welfare and safety of all property in Davidson County.
The division's activities include:
The enforcement of the Property Maintenance code whose purpose is to maintain and preserve existing structures, both residential and commercial.
Reduce the number of substandard housing units within the County
Reduce the number of abandoned or inoperable/unlicensed motor vehicles on private property and on the public right-of-way
Reduce the amount of visual clutter (signs, debris, trash, graffiti)
Ensure that the use of property within the County is consistent with it zoned category
Property Standards Violation Brochure
The Codes Department has created an informational brochure that gives a brief description of the most common violation types we encounter. It is available in English and Spanish.