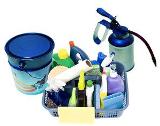 Household hazardous waste refers to products containing potentially harmful or toxic chemicals, often used for cleaning and maintenance of our homes. There is no fee to drop-off household hazardous waste at the East or the Ezell Pike Convenience Center. Metro residents can bring up to 15 gallons or 100 pounds of household hazardous waste each month.
Acceptable Hazardous Waste Items
Adhesives
Antifreeze
Batteries (rechargeable)
Batteries (automobile)
Bleach
Brake fluid
Car wax and cleaners
Caulk
CFL's (compact fluorescent lamps, bulbs or tubes)
Cooking grease (Also accepted at Omohundro Convenience Center)
Detergent
Drain opener
Flea collars
Fluorescent tubes and compact fluorescent light bulbs
Gasoline
Household cleaners
Insect repellent
Insecticide
Lead-acid batteries
Lighter fluid
Mercury thermometers
Mothballs
Motor oil
Oil based paint
Oven cleaner
Paint thinner
Pesticides
Pet spray and dip
Pool chemicals
Rat and mouse poison
Shoe polish
Spot remover
Stain
Toilet bowl cleaner
Transmission fluid
Tub and tile cleaner
Varnish
Weed killer
Windshield wiper fluid
Unacceptable Items
Ammunition
Explosives
Industrial, commercial or business generated hazardous waste
Latex and/or acrylic paint (safe ways to dispose of unwanted latex paint)
Water based stains
Medical waste (needles can be put inside red medical sharp containers or two liter bottles with the lid and placed in your trash container).
Any household hazardous waste in commercial or work vehicles.
Any household hazardous waste from out of county residents.
Any household hazardous waste over 15 gallons or 100 pounds per household/month.
For questions about household hazardous waste call 615-862-5000.
This project is funded under an agreement with the State of Tennessee.
Safe Needle Disposal
Metro Public Health recommends following EPA guidelines for disposing of used needles, syringes, and other sharps at home.
What to do with Sharps in Tennessee
Ways to Reduce your Household Hazardous Waste
Learn more about ways to reduce household hazardous waste around your home.