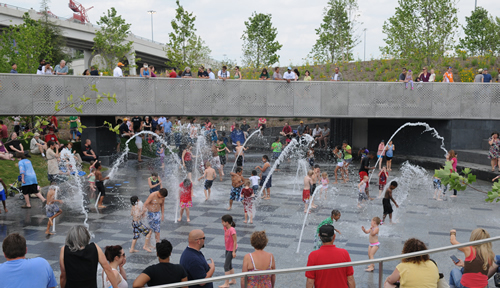 Cumberland Park is an exciting new attraction along Nashville's riverfront! The park is an innovative play space for children and families incorporating unique play structures and water features. The 6.5 acre park includes an outdoor amphitheater, which accommodates approximately 1,200 people for events. Cumberland Park sits between the Shelby Street Pedestrian Bridge and the Korean War Veterans Memorial Bridge and offers direct access to the Shelby Street Bridge by way of a new elevator and staircase.
Cumberland Park is part of the larger Riverfront Revitalization Plan, which includes the recently completed renovation of the adjacent Bridge Building and development of The Lawn, an open space for recreation and events, and the Bridge Building Landing.
The Hollow. A one-of-a-kind nature and play area for children that includes an undulating "washboard" activity area, sand play, a bouncing pad, a green maze and tandem see-saw for parents and kids. The Hollow's water features include a rainbow area, a "cloud bridge" with rain curtains and interactive splash pad.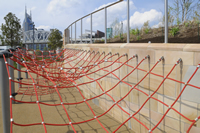 The Scoops. A cooling off area that features a stepping-stone path with mist features.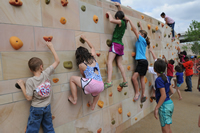 The Gorge. A stone climbing wall with climbing ropes, embedded fossils, climbing nets and sliding poles. A four-person embankment slide is made of Corian material designed to remain cool under a summer sun.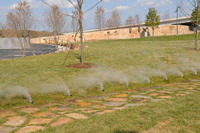 The Explorer Trail. A crushed-stone trail that weaves through plant groves and meadows designed to attract butterflies
Park Information
Cumberland Park
592 South First Street
Nashville, TN 37213
Park Hours
Open daily from dawn to 11 p.m.
Out of an abundance of caution, the Cumberland Park Spray Ground will remain closed for the season 2021. The mechanical vault of the platform requires extensive repairs, which will not be finished before the end of summer. We apologize for the inconvenience. The safety of our patrons is our first priority. Please note that the spray grounds at Kirkpatrick and Watkins parks will open on June 4. Metro Parks spray grounds are free of charge; they will stay opened through Labor Day.
Sprayground Hours
Visit the spraygrounds page.
Special Events
The canopy and lawn are the reservable spaces in the park. Please contact the Special Events Division at 615-862-8400 for more information.