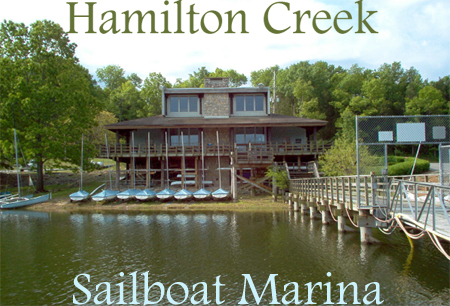 2901 Bell Road
Nashville, TN 37217
Latitude: 36° 06' 43" N Longitude: 86° 37' 28" W
Hamilton Creek Marina is located just a short drive from downtown Nashville on Percy Priest Lake. Since 1980, we have offered storage for sailboats, rowing shells, canoes, kayaks, and paddle boards. We invite you to visit! Call or e-mail for more information about storing your vessel.
Directions
The following directions are recommended when trailering a boat to the marina:
Go east from downtown Nashville on I-40E.
Take exit 219 (Stewarts Ferry Pike South).
Turn right at the top of the ramp and go South 3.3 miles on Bell Road.
Turn left at the Hamilton Creek Park sign (across from Ned Shelton Road).
The Marina entrance is the first turn on the left.
The security gate operates 6:30 a.m. to 9:30 p.m. After hours, the automatic gate will open so you can get out, but you can't get back in without a security code.
Contact the Marina
615-862-8472 Marina Office
615-880-1723 Marina Fax
[email protected]
Mailing Address
Hamilton Creek Marina
Attention: Russell Lackey
P.O. Box 196340
Nashville, TN 37219-6340
Marina Hours
Office hours as of April 2021
Sunday: Closed
Monday: Closed
Tuesday: 10 a.m.- 6 p.m.
Wednesday: 10 a.m.- 6 p.m.
Thursday: 10 a.m.- 6 p.m.
Friday: 10 a.m.- 6 p.m.
Saturday: 10 a.m.- 6 p.m.
Club Associations
Rowing
Nashville Rowing is a non-profit whose mission is to foster and conduct national and international amateur sports competition and to support and develop amateur athletes for national and international competition in rowing.
Sailing
Percy Priest Yacht Club offers Learn to Sail classes and programming for both racing and social sailing for those in the greater Nashville area.
Percy Priest Lake Information
Tennessee Wildlife Resources