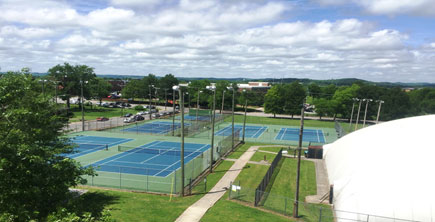 Location
1037B 28th Avenue North
Nashville, TN 37208
Located at the crossing of John Merritt Blvd, Hadley Park Tennis Center is in the heart of North Nashville. The center is at the start of the 28th avenue connector within walking distance of Tennessee State University.
Facility
The Hadley Park Tennis Center houses nine outdoor hard courts and four indoor courts. All (13) courts have 60-foot permanent markings for ages 10 and under and a practice wall.
Metro Parks are committed to the new USTA rule changes for ages 10U and 8U play for kids.
The Tennis Center offers programs for almost any age and ability. For players looking for team or individual competitive match play, we offer tournaments and a variety of League play opportunities. Leagues include; In-house Hadley singles play, Adult USTA team, NALTA and MTTL women's singles and doubles.
We offer year-round Junior Clinics, Adult Clinics, and Private Lessons. The teaching staff teach you the techniques and tactics to improve your tennis game. Whether you are a beginning, intermediate, or an advanced player, we teach you the right tennis skills for every level of play.
USPTA and USTPR Certified Teaching Professionals advise you on anything and everything to do with the great game of tennis. We have locker rooms, a pro-shop with demo rackets, racket repair (stringing and grips), tennis balls, and a ball machine upon request. And, we can arrange a match.
As you see, we have programs to meet all your tennis needs. Please come by and tour the facility or contact us for more information.
Court Reservation
For court availability and reservations, call 615-862-8395. Due to special events, tournaments, and league play, there are times when courts are not available for general public play. Always contact the Tennis Office for daily court availability.
The Hadley Park Tennis facility offers Indoor Contract Time for Fall and Winter. Contract Time allows a player or group of players to reserve courts from October through the end of March. For information about Indoor Contract Time,email Terrance Quattlebaum.
The general public can book indoor and outdoor courts year-round by calling 615-862-8395.
Outdoor courts are not available for general public use during tournament or league play.
Individual courts can only be reserved at the time payment is collected. 24-hour cancellation is required for a refund. Call 615-862-8395 or email Terrance Quattlebaum for multiple court bookings or special events.
Rates
Rates are per hour, per court.
We have a 24-hour cancellation policy.
Outdoor courts: $7.00
Indoor courts: $15.00
Reservations After Operating Hours: additional $45 per hour staffing fee
Accepted forms of payment: Cashier Checks, Cash, Credit Card (2.3% credit card convenience fee added).
For information about wheelchair tennis contact Kelly Skelton-Weise or call 931-639-7549. Visit National Wheel Cats for more information.
Contact Us
Hadley Park Tennis Center
1037B 28th Avenue North
Nashville, TN 37208
Court reservations: 615-862-8395
Terrance.Quattlebaum
Hours of Operation
Monday: 8 a.m.-9 p.m.
Tuesday: 8 a.m.-9 p.m.
Wednesday: 8 a.m.-9 p.m.
Thursday: 8 a.m.-9 p.m.
Friday: 8 a.m.-7 p.m.
Saturday: 9 a.m.-2 p.m.
Sunday: Reservation Only
Activity Schedule
Camp Information
Contract Time
2020 Contract Time will run from October 26-April 4, 2021.
Indoor Contract Time Fees:
$15 per hour Davidson County Residents
$17 per hour non-residents
Hadley Park Tennis Center - Contract Court Time
The above link will go live midnight September 7 and end October 5.
Hadley Tennis Staff