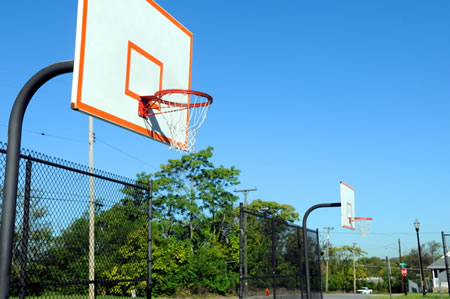 Adult Basketball Leagues
Metro Parks and Recreation Sports Department offers Adult basketball leagues in five divisions: Open, Closed, Church, Women's, and 35 and Over
Adult League Registration
Early Registration
Early sign-up date is the last full week of August, 8:30 a.m.–4:00 p.m. (only returning teams)
Regular Registration
The first Thursday in September. Returning teams register from 4:30–6:00 p.m.; new teams lottery draw, 6:00 p.m.
Location
Metro Parks Office Board Room, 2565 Park Plaza
Fee
You must pay your league entry fee at the September meeting. The fee is $450.00 per team. For any Non-Residents on the team, a $10.00 per player non-resident fee is applied. The resident fee is due when the roster is turned in. Make checks payable to Metro Board of Parks.
Start Date
League games start the first week of November.
If you do not sign up on registration day, you might forfeit your spot in your assigned league.
Please have needed contact information for your team: name, manager or coach, address, email, and phone numbers (home and work).
For questions, call 615-862-8902 or Email [email protected].
Youth Basketball Leagues
Metro Parks and Recreation Sports Department also offers a youth league, the Jr. Grizzlies, for children ages four through 15. Registration Includes: six to eight league games, practices, officials, NBA Jr. Grizzles reversible jersey and shorts, $35.00 terrace level ticket to an NBA game, a drawstring backpack, and an end-of-season award for each player.
Metro Parks Youth Basketball Guidelines and Rules
Youth League Registration
Registration Schedule
The first week in October through the end of November during operating hours at specific locations. Contact location for specific times.
Regional Centers
Coleman, East, Hadley, Hartman, Madison, McCabe, Sevier, Smith Springs and Southeast.
Neighborhood Centers
Antioch, Easley, Hermitage, Kirkpatrick, Looby, McFerrin, Morgan, Napier, Parkwood, Shelby, South Inglewood, and Watkins.
Registration Fee
$70.00 (Regional Centers—cash, money orders, or credit cards; Neighborhood Centers—cash or money orders, only)
Late Registration Fee
(after Thanksgiving): $85.00
Multi-Child Discount
$5.00 discount per child after the first registration
Independent Team Fee
$250.00 (only receives awards and game amenities)
Start Date
Games start in January.
Practice
Practices are scheduled by each location.
For more information about our Youth Leagues, contact your local center or [email protected]
Coaches Needed! Email [email protected] for more information.
Basketball Courts