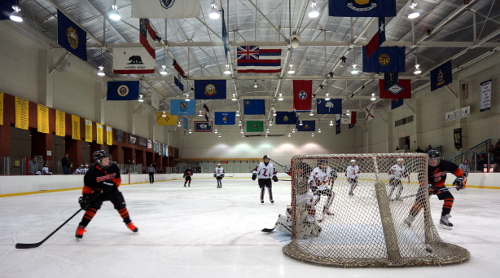 Ice Arenas
Welcome to ice skating at the Centennial Sportsplex Ice Arenas! Whatever ice skating means to you, it's here! Incorporating two full-size ice rinks, with two smooth ice sheets measuring 200' x 85', the Centennial Sportsplex is your year-round center for the coolest sport, recreation, and PURE FUN in town. Attend any of our convenient public skating sessions and enjoy the excitement, exhilaration, and laughter of just skating. Bring a group, have a party, or join organized activities such as our ice hockey leagues (play hard). No skates? No problem. We have skate rental. We also have spectator seating, skate sharpening, and lockers. And, if ice skating makes you hungry, no need to take your skates off. Satisfaction is just steps away. Our concession stand serves everything from pizza to bagels. Come to the Centennial Sportsplex Ice Arenas and let the fun begin!
Public Skating
We are not currently open for public skating. When we reopen the schedule will be posted here: public session schedule.
Skating Lessons
Skating lessons are offered through the Nashville Skating Academy. They offer everything from beginners to competitive levels
Ice Hockey
We offer open hockey sessions, adult hockey leagues, and youth hockey through the Nashville Youth Hockey League
Frequently Asked Questions
I would like to take a group fitness class at the Centennial Sportsplex. Where is the schedule?
You can find group fitness information on our Fitness Center pages.
Where can I find a schedule of Centennial Sportsplex pool closures for special events like swim meets?
Centennial Sportsplex is proud to host swim meets for NAC, Vanderbilt Swim Team, and a variety of other swim associations. At times, the pools will be closed for public use during these events. A schedule of special events with closure dates can be found on the Aquatics page.
I am attending an event at the Centennial Sportsplex. What are some area lodging options for me?
The closest hotels to our facility are:

Hampton Inn & Suites Nashville-Vanderbilt-Elliston Place: 0.2 miles

Nashville Marriott at Vanderbilt University: 0.3 miles

Holiday Inn Nashville-Vanderbilt(Downtown): 0.4 miles

Loews Vanderbilt Hotel-Nashville: 0.5 miles

There are other accommodations available within a one-mile radius of our facility.
Does the Centennial Sportsplex participate in donation drives or raffles?
Yes, we participate in fundraisers for non-profits, schools, and organizations! For more information, email the event description to Nethraja Rajaratnam.
How can I get a job at Centennial Sportsplex?
We are so glad that you are interested in being a part of our team. For more information, check out our Employment Page.